The Postmaster-General of the Federation and CEO of Nigerian Postal Service, Dr Adebayo Adewusi, says technology has disrupted its services and has also helped it to diversify.
"The disruptive technology has substituted letter writing, that is, physical mail, on one hand but on the other hand offers the Post expanded customers base who have migrated to online transactions.
"In NIPOST, we have diversified our services with the help of Information Technology in order to serve our customers better and to improve our revenue," he said on Thursday at Nigeria-at-60 exhibition sponsored by Nigeria Philatelic Service, the Lagos Philatelic Club in collaboration with Freedom Park, Lagos.
The 15-day exhibition features words, images and voices with the theme, "Memoirs…1960-2020: The Formation of a Nation".
Adewusi said "The postal sector, the world over, is undergoing a process of reformation. The rapid development of new information technology has affected the postal sector in a number of ways.
"NIPOST today is involved in the provision of basic financial service through financial inclusion (saving, payment, money transfers) to people without access to such services particularly in the rural areas of our country.
"We are envisioning a situation where the Post office would serve as a one-stop shop, where one can access a number of government services through our e-government platform, without having to go through the rigours of extensive travels to locate these services as it is presently the case. NIPOST is collaborating with related government agencies to achieve this in the nearest possible time."
On the nation's history, the former Lagos State Commissioner for Finance expressed satisfaction that NIPOST hadvbeen able to play a pivotal role in the documentation of the Nigerian journey till date.
The NIPOST boss said it was important to celebrate the successes Nigeria had made documented in miniature artifacts, howbeit, with bold statements of our nationhood.
"It is of utmost importance to say that we are gathered today not just to witness the opening ceremony of this epic exhibition, but also Nigerian Postal Service, (NIPOST) as a partner in this project, plays a strategic role in the socio-economic and political spectrum of our country.
"It has, over the years, documented Nigeria's story through issuing of postage stamps for the purpose of education and preservation of our national heritage, among others.
"Interestingly today, we are showcasing these stamps to inform, educate, entertain and remind the general public of the historic events that occurred in the time past."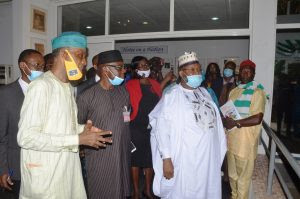 The Chairman of Lagos Philatelic Club, Mr Bayo Fadairo, described the 60th independence anniversary exhibition as a reminder of the nation's glorious past and a glimpse into the possibilities of the future.
He said it was also to create awareness, set up stamps clubs in schools and promote the use of postage stamps as tools for teaching history, culture, geography and other subjects as well as promote tourism.
The General Manager, Nigeria Philatelic Service in NIPOST, Mrs Funmilayo Esiri, described stamps as a veritable tool of documenting Nigeria's history and national developments.
She lauded the Postmaster-General for his support and bringing his wealth of experience to bear on NIPOST.
Dgnitaries at the event included Mr Bayo Fakorede, Acting Managing Director/CEO, Staco Insurance Plc, Dr. Mike Umoh, Lagos NIPOST Zonal Manager, Theo Lawson, Head, Freedom Park,  Miss Iyabo Aboaba, Chief Operating Officer, Freedom Park,  Mr Taiye Olaniyi, Patron, Lagos Philatelic Club and the exhibition curator, Mr Olaseni Gansallo and Omotola Ibeh.